Exceptional
Spice Blends
Countries of Origin: Brazil, Egypt, Fiji, France, Guatemala, Indonesia, Morocco, Peru, Spain, Sri Lanka, Turkey, United States.
As kids, we grew up with parents and family members who all went to the local dairy, the local butcher, and the local farms for the "best" of everything. So it was definitely a natural choice for me when I decided to go into the retail end of the food business, to start selling my products at two of the local farmers markets in the area.

A regular trip to the Farmers Market is one of the best ways to learn where your food is coming from. The food you buy there is seasonal, and therefore helps you to reconnect with the different cycles of nature in your region. There is always an amazing array of produce and specialty food items, and being able to meet the farmers and food artisans is a fun learning experience. Above all, you are supporting small family businesses. So make sure to come and visit me!


Lemon
Tree Lane Kitchen Recipes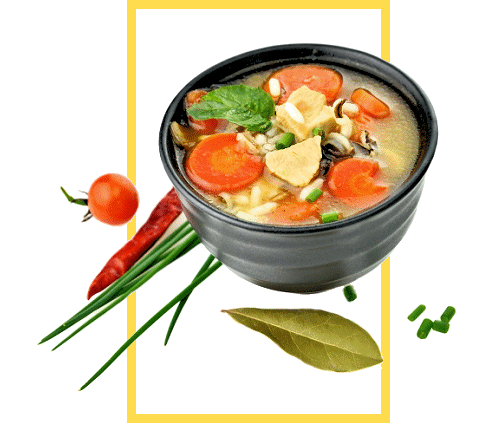 Check out our Recipe page! Treasured old family favorites and new ones as well. These recipes are packed with flavor, and sure to please.

From a simple Champagne Punch to the elaborate and luscious, Crabmeat Chantilly, you'll find what you are looking for. Be creative and use the LTLK Spice Blends when seasoning the recipes!
What People Say About

Lemon Tree Lane Kitchen
"Thank you so much. The food was wonderful. It worked out perfectly because the potato salad and quinoa salad were big hits with the adults and the kids loved the pasta salad. You made everything so easy. We'll definitely see you at the market!"
"Everything went well - everything was delicious and everyone said we should do this again!! I loved the crab bisque so much and the beef burgundy - wow - everything was a hit!!!"



Make your own buttermilk by adding a TBL of lemon juice to 1 cup of milk.
March

De-stem strawberries with a stainless steel straw.
April

Extend the life of bananas by wrapping the stems with saran wrap.
May
Get
in touch
Send Lemon Tree Lane Kitchen your questions or catering requests. Simply fill out this form, submit it and we'll be in touch promptly! We can also be contacted at 610-509-9833